---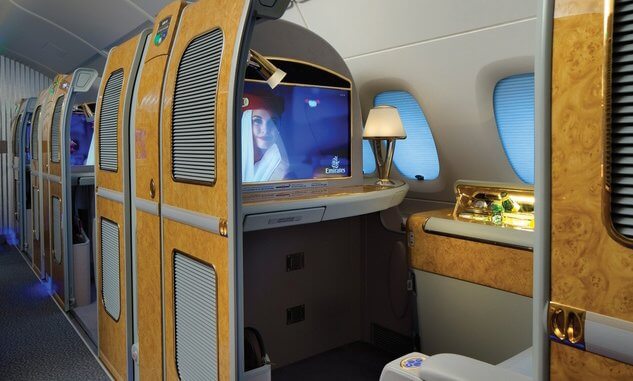 ---
---
After 10 years of flights Emirates A380 continues to boggle imagination of the travelers. Part 2
For the last 10 years Emirates A380 was in the center of several aviation events including unprecedented common flight with Jetman Dubai pilots in 2015. Unusual flying in formation of the airplane and two pilots in jet backpacks above the tower buildings of Dubai and Palm Jumeirah island has demonstrated which heights the aviation has reached. The same year Emirates presented first A380 in the world in two-class version that may accommodate 615 passengers.
In 2017 during International Dubai Airshow A380 has taken off for special demonstration flight accompanied by Boeing 777-300ER and aerobatic team of UAE Air Force Al Fursan.
Emirates A380 has also visited 73 airports during single or regular flights and also memorable, charter, test and other flights. Use of this airplane has also allowed increasing efficiency in the airports with restriction of the airport slots to maximum.
---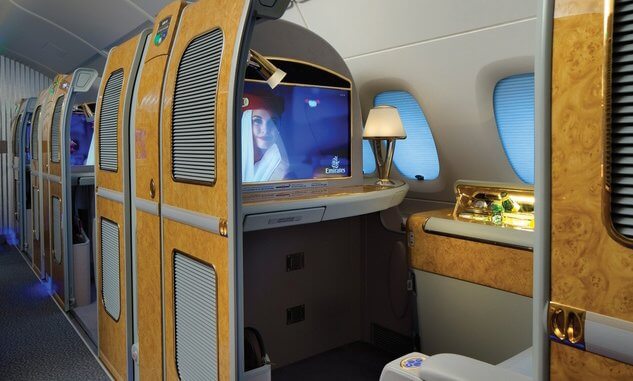 Thanks to the level of passenger service in all classes Emirates A380 has established new comfort standards on the board of the airplane for entire industry. Emirates has developed revolutionary design of the A380 cabins presenting unique version of the airplane in 2008. It's interior has higher ceilings, system of dynamic lightning and also number of unique innovations on the board such as rest area Onboard Lounge that became the most popular place for communication on the 12 000 kilometers altitude. In 2017 Emirates presented renovation of the rest area Onboard Lounge with improved design, new color palette, comfortable seating chart and surround sound. Popular SPA-shower on the board became unique feature of premium flight on the Emirates A380 in three-class version. More than 80% of first class passengers travelling on the long-haul flights have used it.
Emirates guarantees to the first class passengers of A380 unequalled comfort and luxury level. For today more than 1400 personal cabins are available for first class passengers of A380.