---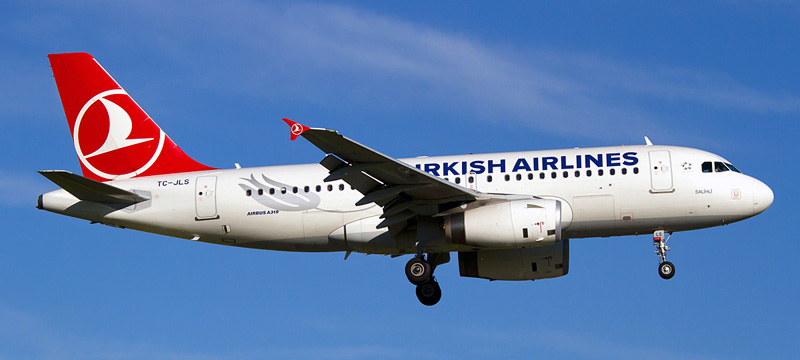 ---
---
Airbus A319-100 Turkish Airlines. Photos and description of the plane
"Turkish Airlines" operates Airbus A319-100. First flight of the test aircraft Airbus 319-100 took place on August 25th 1995.
In the end of March 1996 certification process was finished and in April first airplane Airbus 319 was delivered to airline company Swissair. To meet Customers' requirements in full was constructed modification of Airbus A319 with V2500 engine. Thereby airplanes equipped with CFM56 engines have got designation A319-1100 but airplanes with V250 engines – A319-130.
Airbus A319 is medium-range passenger airplane constructed by West European company Airbus. A 319 is shortened by 7 meters (due to reduction of number of passenger seats by two rows) modification of airplane A320. Thanks to construction of variants with different flying range and passenger capacity, operators of this airplane get a lot of advantages. Except the base model that is intended to transport 124 passengers on 6650 kilometers distance airline companies are also offered variant with capacity up to 156 seats.
---
More about age of the each airplane:
---
Photo Airbus A319-100 Turkish Airlines. High quality fotos
---
Usefull information about "Turkish Airlines"
---