---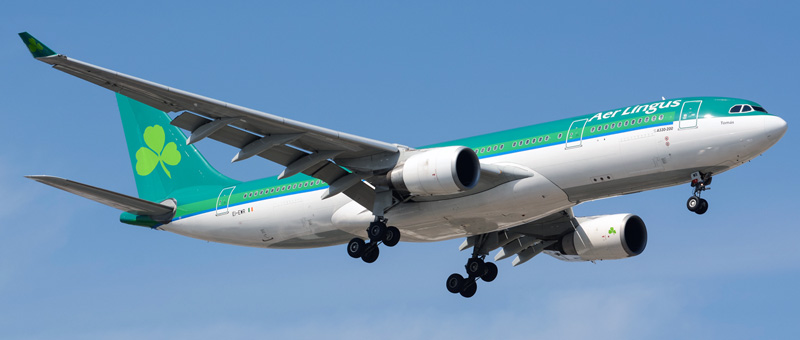 ---
---
Airbus A330-200 Aer Lingus. Photos and description of the plane
"Aer Lingus" operates 5 aircrafts Airbus A330-200. For the first time airplane A330-200 has got-off the ground on August 13th 1997.
In one year after going through all ground and air tests, aircraft has got first certificate.
In common three-class configuration Airbus A330-200 accommodates 253 passenger seats, 293 seats – in two class configuration or up to 406 seats in economy configuration. When fully loaded the airplane is able to fly on distance up to 12500 kilometers. The ferry range of the aircraft is more than 13 thousands kilometers.
---
In 2001 Airbus S.A.S has offered cargo modification of the airplane to air carriers A330-200F. But initial construction of the cargo version began only in 2007. First cargo version was constructed on October 20th 2009. Almost in one month, on November 5th 2009, cargo airplane A330-200F has made the first flight. The main competitor of this modification is cargo Boeing 767-300F and McDonnell Douglas DC-10F.
More about age of the each airplane:
Airbus A330-200 +
---
Photo Airbus A330-200 Aer Lingus. High quality fotos
---
Usefull information about "Aer Lingus"
---