---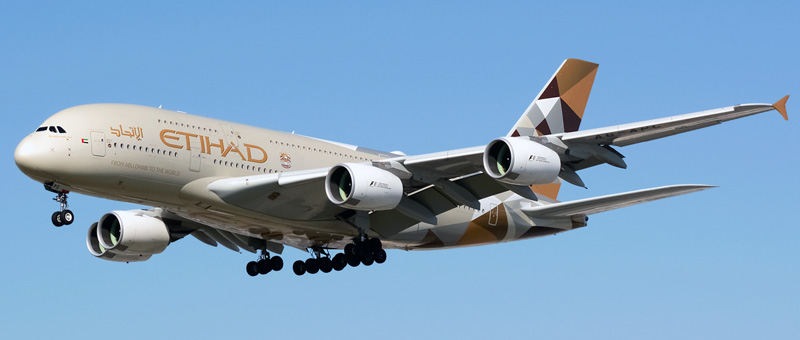 ---
---
Airbus A380-800 Etihad Airways. Photos and description of the plane
"Etihad Airways" operates 10 aircrafts Airbus A380-800. Airbus A380 is two-deck, four-engine airplane constructed by Airbus S.A.S.
For today aircrafts Airbus A380 are the biggest passenger airplanes. Though it worth to mention that AN-225 holds the record of being the biggest commercial airplane in the world.
Airbus A380 is sold in two versions: intended for 555 passengers of three classes or for 853 passengers of the only economy class. Mass-media have named A380 "supergiant". As comparison can cited airplanes of other models: for example, Boeing 747-400 is intended for 416 passengers of three classes, 660 passengers – of one class, Airbus A340-600 – for 380 passengers of three classes but passenger airplane ATR 42/72 is intended (depending on the model) just for 42-72 passengers.
---
Airbus A 380 has the following technical characteristics: wing span – 79.8 meters, surface – 845 square meters, the body length – 73 meters, diameter – 7.14 meters, height – 24.1 meters. Course speed of the airplane reaches 900 km per hour. Cabin may accommodate from 555 passengers – for three class modification to 853 – for one class modification. Flying range of Airbus A380 is 15000 km.
More about age of the each airplane:
Airbus A380-800 +
---
Photo Airbus A380-800 Etihad Airways. High quality fotos
---
Usefull information about "Etihad Airways"
---