---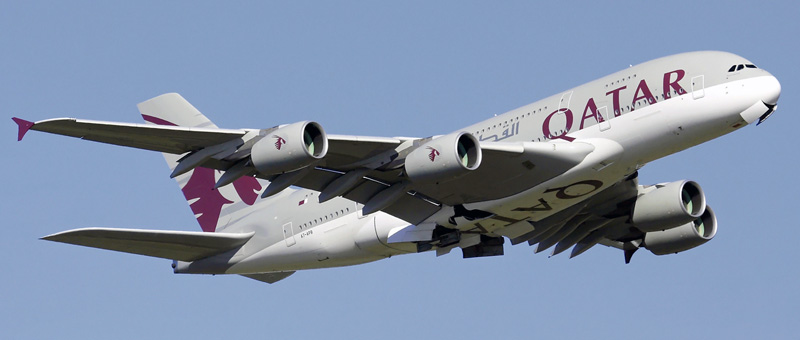 ---
---
Airbus A380-800 Qatar Airways. Photos and description of the plane
"Qatar Airways" operates 10 aircrafts Airbus A380-800. The cabin of passenger airplane Airbus A380 has two decks and may have two variants.
First variant is when the cabin is divided into three classes (first and business class on the upper deck and economy class on the lower deck, so capacity of the airplane is from 516 to 525 persons). The second variant of Airbus A380 has only economy class located on the upper and lower decks with more than 644 people capacity.
Three class variant of passengers cabin foreseen location of first class in the front part of the upper deck. Of course, the seats here are the most comfortable but passenger services a like in five-star hotel. So, each seat of the first class on Airbus A380 has the form of closed separate compartment with comfortable door. The seat may turn into cozy bed. Also these seats have such services as internet and possibility of charging mobile devices. Also each of these mini-compartments have small displays and mini-bar. For passengers of the first class work shower cabins and is served dainty restaurant menu.
---
More about age of the each airplane:
Airbus A380-800 +
---
Photo Airbus A380-800 Qatar Airways. High quality fotos
---
Usefull information about "Qatar Airways"
---