---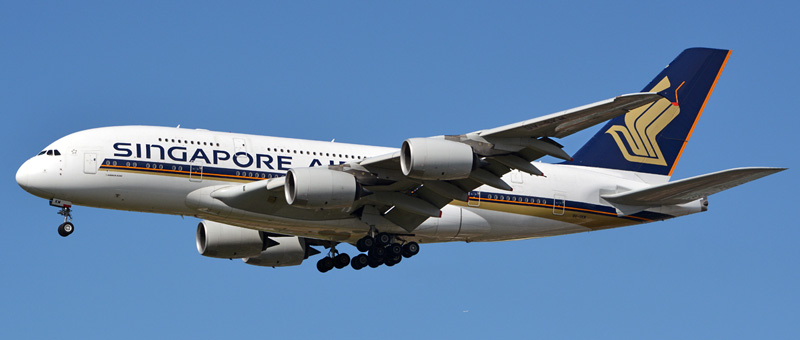 ---
---
Airbus A380-800 Singapore Airlines. Photos and description of the plane
"Singapore Airlines" operates 19 aircrafts Airbus A380-800. Airbus A380 is two-deck airplane with 280 tones weight and wide body that is flying on long-haul flights.
To create Airbus A380 more than 12 billion euro were spent. And about 10 years of construction. Passenger capacity of Airbus A380 is 35 per cent more than the main competitor Boeing 747. One of the problems during construction process of Airbus A380 was weight problem that is why extra kilogram of loading increases consumption of expensive fuel.
That is why it was necessary to make exterior cover as light weighted as possible but at the same time maximally firm. For this purpose was used combination of big quantity of new aluminum alloy that is lighter and has better shock strength as compared to usual aluminum alloys and composite materials including made on the base of glass fiber. As the plants that manufacture components for airplane are located not only in France but also in other countries such as Spain, Germany and Great Britain, to deliver the components to Toulouse Airbus S.A.S. has built for these purposes special supply ship to deliver the body parts by water.
---
More about age of the each airplane:
Airbus A380-800 +
---
Photo Airbus A380-800 Singapore Airlines. High quality fotos
---
Usefull information about "Singapore Airlines"
---