---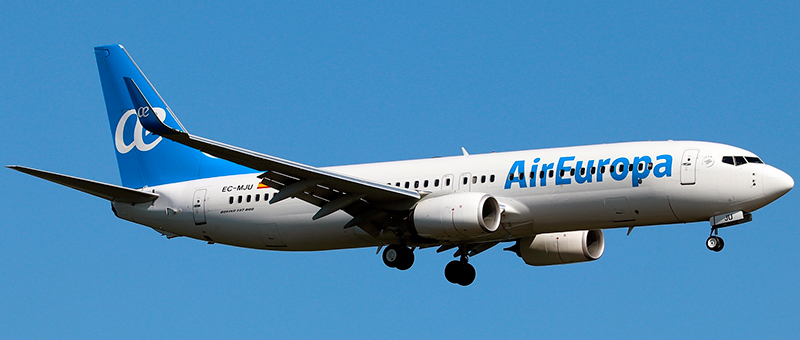 ---
---
Boeing 737-800 Air Europa. Photos and description of the plane
From September 1994 Boeing Company began to engineer airplane Boeing 737-800 (previous name of the airplane 737-400X) the second in new subfamily of the aircrafts of 737 class.
In passenger capacity this airplane is similar to Boeing 737-400. In its' construction have been used the same engineering solutions that have been used in initial variant of Boeing 737-700.
Boeing 737-800 may transport 180-200 tourists in the cabins of two classes. In the capacity of engine unit in Boeing 737-800 are used two turbofan engines CFM56-7B with the thrust 12950 kgf.
---
On the airplane is used digital complex electronic hardware EFIS of American Company Honeywell with 6 flat displays. Architecture of the complex is similar to Boeing 777 airplane. Also there is possibility to install unique head-up display HUD on the windshield glazing. Serial production of the Boeing 737-800 was launched in 1998.
---
Photo Boeing 737-800 Air Europa. High quality fotos
---
Usefull information about "Air Europa"
---