---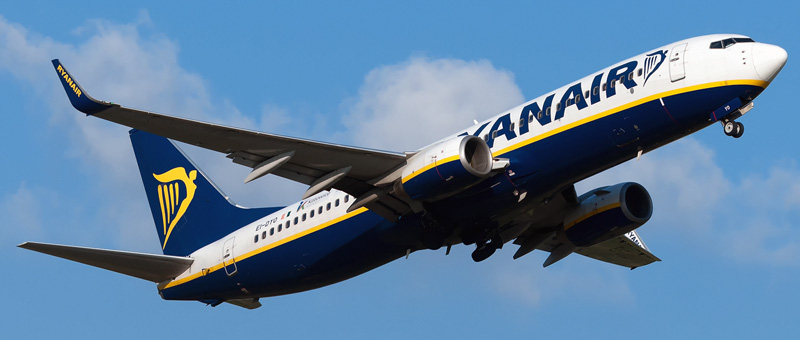 ---
---
Boeing 737-800 Ryanair. Photos and description of the plane
"Aer Lingus" operates 438 aircrafts Boeing 737-800. In the beginning of September 1994 Boeing Company has started work over airplane Boeing 737-800 (previous name 737-400X) that is the second in new subfamily of the airplane 737.
Passenger capacity of Boeing 737-800 corresponds to airplane 737-400. In the construction of the airplane are used all technical solutions that are used in original airplane Boeing 737-700. Flying tests of Boeing 737-800 was planned to begin in July 1997 but in March 1998 to begin deliveries.
In the end of April 1997 Boeing Company has informed for the first time about project of the airplane Boeing 737-900X that represent elongated by 2.8 meters airplane 737-800. The airplane may transport 180-200 passengers (in two-class cabin).
---
More about age of the each airplane:
Boeing 737-800 +
Aircraft
Reg
Age
Boeing 737-800
EI-DAI
16.0 years
EI-DHB
13.9 years
EI-DCN
14.2 years
EI-DCJ
14.4 years
EI-DAJ
16.0 years
EI-DAG
16.0 years
EI-DAH
16.0 years
EI-DHC
13.9 years
EI-DCI
14.5 years
EI-DHS
13.2 years
EI-DHT
13.2 years
EI-DAL
15.7 years
EI-DAN
15.4 years
EI-DAS
15.4 years
EI-DCR
14.1 years
EI-DCM
14.3 years
EI-DAD
16.1 years
EI-DCZ
14.0 years
EI-DCK
14.4 years
EI-DAR
15.4 years
EI-DCW
14.0 years
EI-DAK
15.8 years
EI-DAP
15.4 years
EI-DHO
13.3 years
EI-DAM
15.7 years
EI-DAF
16.1 years
EI-DHA
14.0 years
EI-DCP
14.2 years
EI-DCY
14.0 years
EI-DHG
13.8 years
EI-DHH
13.8 years
EI-DCX
14.0 years
EI-DHD
13.9 years
EI-DCO
14.2 years
EI-DHR
13.2 years
EI-DCF
14.6 years
EI-DCL
14.3 years
EI-DAE
16.1 years
EI-DCG
14.6 years
EI-DAC
16.2 years
EI-DHF
13.9 years
EI-DAO
15.4 years
EI-DHE
13.9 years
EI-DHP
13.2 years
EI-DHN
13.4 years
EI-DCH
14.5 years
EI-DPJ
11.9 years
EI-DWF
11.3 years
EI-DLG
12.9 years
EI-DPH
12.0 years
EI-DWC
11.3 years
EI-DPX
11.6 years
EI-DPR
11.8 years
EI-DWA
11.3 years
EI-DLC
13.1 years
EI-DHW
13.2 years
EI-DPG
12.0 years
EI-DHZ
13.1 years
EI-DPK
11.9 years
EI-DLK
12.8 years
EI-DPF
12.0 years
EI-DPI
12.0 years
EI-DLB
13.1 years
EI-DLY
12.2 years
EI-DPN
11.9 years
EI-DLR
12.3 years
EI-DHY
13.1 years
EI-DWD
11.3 years
EI-DLV
12.3 years
EI-DPD
12.1 years
EI-DLJ
12.8 years
EI-DLH
12.9 years
EI-DLE
12.9 years
EI-DHX
13.1 years
EI-DPT
11.8 years
EI-DPO
11.8 years
EI-DPY
11.4 years
EI-DHV
13.2 years
EI-DPW
11.7 years
EI-DWG
11.3 years
EI-DPP
11.8 years
EI-DLO
12.7 years
EI-DPB
12.2 years
EI-DPV
11.8 years
EI-DLF
12.9 years
EI-DPL
11.9 years
EI-DLI
12.8 years
EI-DLN
12.7 years
EI-DPZ
11.4 years
EI-DWB
11.3 years
EI-DPM
11.9 years
EI-DWE
11.3 years
EI-DPC
12.1 years
EI-DLX
12.2 years
EI-DLW
12.3 years
EI-DLD
13.0 years
EI-EBG
9.9 years
EI-EBR
9.8 years
EI-DYE
10.8 years
EI-DYD
10.9 years
EI-DYM
10.6 years
EI-DWW
10.9 years
EI-DYR
10.4 years
EI-DYW
10.1 years
EI-EBM
9.8 years
EI-EBF
10.0 years
EI-EBH
9.9 years
EI-DWY
10.9 years
EI-DYP
10.4 years
EI-DWZ
10.9 years
EI-DYX
10.1 years
EI-DWK
11.2 years
EI-EBN
9.8 years
EI-DYL
10.6 years
EI-DYY
10.1 years
EI-DYV
10.1 years
EI-DYB
10.8 years
EI-DWS
11.1 years
EI-DYF
10.8 years
EI-EBE
10.0 years
EI-EBI
9.9 years
EI-DYZ
10.1 years
EI-DWX
10.9 years
EI-EBL
9.9 years
EI-DYA
10.9 years
EI-DWT
11.0 years
EI-EBC
10.0 years
EI-DYO
10.4 years
EI-EBP
9.8 years
EI-DYN
10.6 years
EI-EBV
9.8 years
EI-DWO
11.2 years
EI-DWM
11.2 years
EI-EBS
9.8 years
EI-DWI
11.3 years
EI-EBO
9.8 years
EI-DWJ
11.3 years
EI-DYC
10.8 years
EI-DWH
11.3 years
EI-DWR
11.1 years
EI-EBK
9.9 years
EI-EBA
10.1 years
EI-DWV
11.0 years
EI-DWP
11.1 years
EI-EBD
10.0 years
EI-DWL
11.2 years
EI-EKJ
9.0 years
EI-EFI
9.6 years
EI-EFY
9.2 years
EI-EKH
9.0 years
EI-EBW
9.8 years
EI-EKK
9.0 years
EI-EKC
9.0 years
EI-EKG
9.0 years
EI-EKZ
8.8 years
EI-EGA
9.2 years
EI-EFE
9.7 years
EI-EMB
8.8 years
EI-EFX
9.2 years
EI-EKL
8.9 years
EI-EFF
9.6 years
EI-EKB
9.1 years
EI-EFH
9.6 years
EI-EGB
9.2 years
EI-EKF
9.0 years
EI-EMC
8.7 years
EI-EKD
9.0 years
EI-EFC
9.7 years
EI-EKX
8.8 years
EI-EKS
8.9 years
EI-EKN
8.9 years
EI-EMA
8.8 years
EI-EFN
9.5 years
EI-EKA
9.1 years
EI-EKE
9.0 years
EI-EBZ
9.7 years
EI-EFG
9.6 years
EI-EKT
8.9 years
EI-EGD
8.3 years
EI-EFO
9.5 years
EI-EKM
8.9 years
EI-EFZ
9.2 years
EI-EFD
9.7 years
EI-EMD
8.7 years
EI-EKV
8.8 years
EI-EFJ
9.6 years
EI-EKY
8.8 years
EI-EKP
8.9 years
EI-EKW
8.8 years
EI-EKI
9.0 years
EI-EGC
9.2 years
EI-EKR
8.9 years
EI-EBY
9.7 years
EI-EFK
9.6 years
EI-EBX
9.7 years
EI-EKO
8.9 years
EI-ENK
8.0 years
EI-ENC
8.3 years
EI-ENM
8.0 years
EI-ENG
8.2 years
EI-ENV
7.9 years
EI-EPB
7.9 years
EI-ESW
7.2 years
EI-EPD
7.8 years
EI-EMN
8.6 years
EI-ENF
8.2 years
EI-ESN
7.3 years
EI-ENN
8.0 years
EI-EPF
7.8 years
EI-ENH
8.2 years
EI-ENY
7.9 years
EI-ESV
7.2 years
EI-ENW
7.9 years
EI-EMI
8.7 years
EI-EMR
8.6 years
EI-ENP
8.0 years
EI-ENE
8.3 years
EI-ENO
8.0 years
EI-EST
7.3 years
EI-EML
8.6 years
EI-EMK
8.7 years
EI-ENL
8.0 years
EI-ENR
8.0 years
EI-ENS
7.9 years
EI-ESS
7.3 years
EI-EMO
8.6 years
EI-ENI
8.0 years
EI-EMM
8.7 years
EI-EPA
7.9 years
EI-ESP
7.3 years
EI-ESY
7.2 years
EI-EMJ
8.7 years
EI-EPC
7.9 years
EI-ENT
8.0 years
EI-EMP
8.6 years
EI-EMF
8.7 years
EI-ESZ
7.2 years
EI-ENB
8.3 years
EI-EPH
7.8 years
EI-ESR
7.3 years
EI-ENJ
8.0 years
EI-ENA
8.3 years
EI-EME
8.7 years
EI-ESX
7.2 years
EI-EMH
8.7 years
EI-ENX
7.9 years
EI-EVS
6.4 years
EI-FIM
3.6 years
EI-EVR
6.4 years
EI-EVF
6.9 years
EI-FIC
3.9 years
EI-EXF
6.1 years
EI-EVV
6.3 years
EI-FIW
3.2 years
EI-EVW
6.3 years
EI-EVA
7.0 years
EI-EVG
6.9 years
EI-EVZ
6.2 years
EI-FIH
3.7 years
EI-EVL
6.8 years
EI-EXD
6.2 years
EI-FIT
3.3 years
EI-FIP
3.5 years
EI-EXE
6.2 years
EI-EVY
6.2 years
EI-FIF
3.8 years
EI-FIJ
3.7 years
EI-EVD
7.0 years
EI-EVB
7.1 years
EI-EVP
6.7 years
EI-EVN
6.8 years
EI-EVH
6.9 years
EI-EVI
6.9 years
EI-FIE
3.9 years
EI-FIA
4.0 years
EI-EVM
6.8 years
EI-EVT
6.3 years
EI-FIB
3.9 years
EI-FIV
3.3 years
EI-FEG
4.3 years
EI-FEI
4.2 years
EI-EVE
6.9 years
EI-FIL
3.6 years
EI-FID
3.9 years
EI-FIO
3.6 years
EI-EVX
6.3 years
EI-FIN
3.6 years
EI-FIR
3.5 years
EI-EVO
6.7 years
EI-FIG
3.8 years
EI-FIS
3.3 years
EI-FIK
3.7 years
EI-FEH
4.2 years
EI-EVJ
6.9 years
EI-EVC
7.0 years
EI-EVK
6.9 years
EI-FOD
3.0 years
EI-FRI
2.7 years
EI-FOI
2.9 years
EI-FRN
2.7 years
EI-FRP
2.6 years
EI-FRB
2.8 years
EI-FIY
3.2 years
EI-FRC
2.8 years
EI-FOS
2.9 years
EI-FRV
2.4 years
EI-FRR
2.6 years
EI-FRW
2.3 years
EI-FOM
2.9 years
EI-FOF
3.0 years
EI-FRF
2.8 years
EI-FRJ
2.7 years
EI-FOA
3.2 years
EI-FRS
2.6 years
EI-FRZ
2.3 years
EI-FOG
3.0 years
EI-FRD
2.8 years
EI-FOE
3.0 years
EI-FRM
2.7 years
EI-FOK
2.9 years
EI-FRH
2.7 years
EI-FRK
2.7 years
EI-FRG
2.7 years
EI-FON
2.9 years
EI-FRL
2.7 years
EI-FOC
3.1 years
EI-FTB
2.3 years
EI-FOL
2.9 years
EI-FOR
2.9 years
EI-FOP
2.9 years
EI-FRX
2.3 years
EI-FOO
2.9 years
EI-FOT
2.8 years
EI-FTA
2.3 years
EI-FOW
2.8 years
EI-FOH
3.0 years
EI-FOB
3.1 years
EI-FOZ
2.8 years
EI-FRE
2.8 years
EI-FOV
2.8 years
EI-FOY
2.8 years
EI-FRO
2.6 years
EI-FRY
2.3 years
EI-FRT
2.6 years
EI-FIZ
3.2 years
EI-FOJ
2.9 years
EI-FZP
1.7 years
EI-GDE
1.3 years
EI-FZB
1.9 years
EI-FZW
1.7 years
EI-FZG
1.8 years
EI-GDH
1.2 years
EI-FTD
2.2 years
EI-FTO
2.0 years
EI-FTS
1.9 years
EI-FZD
1.8 years
EI-FTG
2.2 years
EI-FTN
2.0 years
EI-FTY
1.9 years
EI-FTC
2.3 years
EI-FZS
1.7 years
EI-FTT
1.9 years
EI-FZR
1.7 years
EI-FZT
1.7 years
EI-FTK
2.0 years
EI-FZO
1.7 years
EI-GDI
1.2 years
EI-FTE
2.3 years
EI-FTV
1.9 years
EI-FZH
1.8 years
EI-FTL
2.0 years
EI-FZM
1.7 years
EI-FZK
1.7 years
EI-GDD
1.3 years
EI-GDF
1.3 years
EI-FTW
1.9 years
EI-FZE
1.8 years
EI-GDK
1.2 years
EI-FZN
1.7 years
EI-FTP
2.0 years
EI-FZA
1.9 years
EI-FZJ
1.7 years
EI-FTM
2.0 years
EI-FZF
1.8 years
EI-GDC
1.4 years
EI-FTJ
2.1 years
EI-FZL
1.7 years
EI-GDG
1.3 years
EI-FTH
2.2 years
EI-FTR
1.9 years
EI-FTF
2.2 years
EI-FZC
1.8 years
EI-FZV
1.7 years
EI-FZI
1.8 years
EI-FTI
2.1 years
EI-FTZ
1.9 years
EI-GDT
1.0 years
EI-GXM
0.2 years
EI-GJE
0.9 years
EI-GXN
0.1 years
EI-GJF
0.9 years
EI-GJT
0.7 years
EI-GJB
0.9 years
EI-GSH
0.3 years
EI-GJH
0.8 years
EI-GJD
0.9 years
EI-GXG
0.3 years
EI-GDW
1.0 years
EI-GJS
0.7 years
EI-GDZ
0.9 years
EI-GDN
1.2 years
EI-GSI
0.3 years
EI-GSG
0.3 years
EI-GDR
1.0 years
EI-GJI
0.8 years
EI-GXH
0.3 years
EI-GDM
1.2 years
EI-GDP
1.0 years
EI-GJN
0.7 years
EI-GJO
0.7 years
EI-GJJ
0.8 years
EI-GDY
0.9 years
EI-GDX
0.9 years
EI-GSJ
0.3 years
EI-GJK
0.8 years
EI-GJG
0.8 years
EI-GXJ
0.2 years
EI-GDO
1.2 years
EI-GJA
0.9 years
EI-GSK
0.3 years
EI-GJC
0.9 years
EI-GDV
1.0 years
EI-GXL
0.2 years
EI-GXI
0.3 years
EI-GJM
0.8 years
EI-GJP
0.7 years
EI-GDS
1.0 years
EI-GXK
0.2 years
---
Photo Boeing 737-800 Ryanair. High quality fotos
---
Usefull information about "Ryanair"
---