---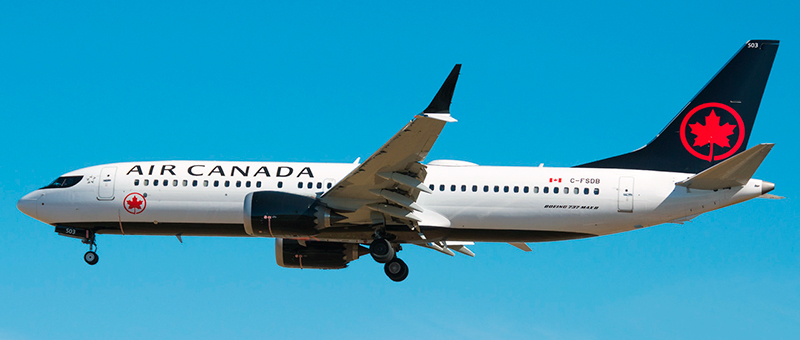 ---
---
Boeing 737 MAX 8 Air Canada. Photos and description of the plane
Boeing 737 Max family was engineered as replacement for Boeing 737 Next Generation under the pressure of competitive struggle with Airbus A320Neo.
The main differences from previous version are: more powerful engines, less fuel consumption and also some changes in the air frame.
Three modifications that differ in size and capacity have been engineered: Boeing 737 Max 7, Boeing 737 Max 8 and Boeing 737 Max 9 that come to replace Boeing 737-700 and 737-700ER, 737-800 and 737-900ER correspondingly. First flight of the Boeing 737 Max 8 took place on January 29th 2016.
---
Cruising air speed of Boeing 737 Max 8 is 842 km/h. Flying range is 6700 kilometers. On the Boeing 737 Max 8 two engines CFM International LEAP-1B are installed. Wing span is 35.9 meters, length 39.5 meters; the airplane's height is 12.3 meters.
The crew of the Boeing 737 Max 8 consists of 2 persons. The cabin may accommodate 162-178 passengers in two classes and maximum 200 passengers. The take-off weight is 82.19 tones.
---
Photo Boeing 737 MAX 8 Air Canada. High quality fotos
---
Usefull information about "Air Canada"
---