---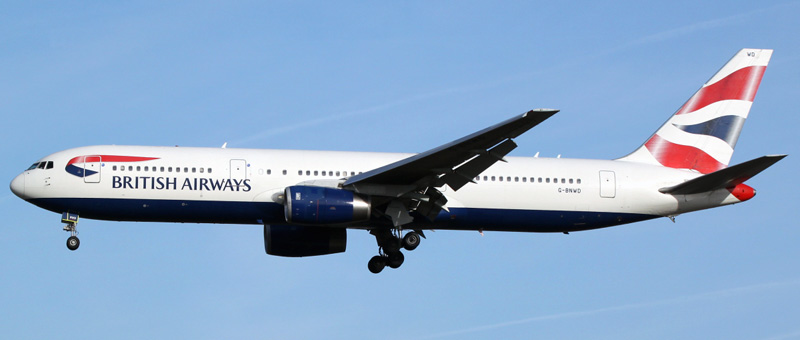 ---
---
Boeing 767-300 British Airways. Photos and description of the plane
"British Airways" operates Boeing 767-300. Boeing 767-300 is long-haul wide-body aircraft developed and constructed by American Company Boeing.
Boeing 767-300 represents elongated modification of model 767-200. As compared to the predecessor fuselage was elongated by 6.43 meters and its total length makes 54.9 meters. Airplane may take on board from 218 to 350 passengers and transport them to distance up to 7900 kilometers. Commercial use of the airplane began in 1986.
Boeing 767-300ER is modification with increased flying range (up to 11065 kilometers). Commercial use of this airplane began in 1988. For today it is the most sold aircraft in 767 family.
---
The cabin of the airplane is equipped with two aisles, each row in economy class has 2-3-2 configuration. As the airplane is aimed on long-distance flight , the cabin is equipped with big bins for hand luggage, comfortable non-direct lighting, good aircraft sound proofing and increased number of lavatories. Many companies equip the seats with multimedia systems for entertaining passengers during the flight.
The main competitor of Boeing 767-300(ER) is Airbus A330-200.
More about age of the each airplane:
---
Photo Boeing 767-300 British Airways. High quality fotos
---
Usefull information about "British Airways"
---