---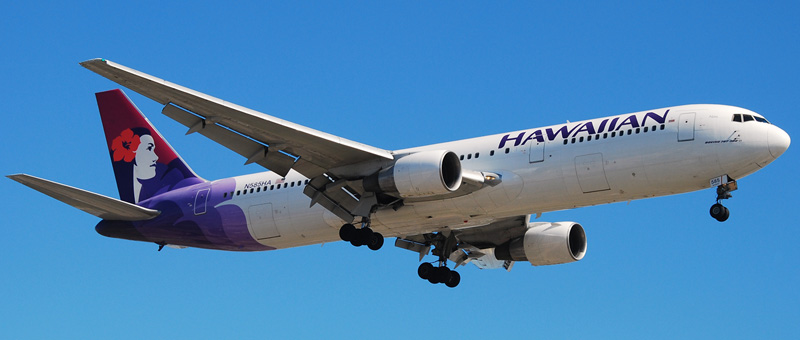 ---
---
Boeing 767-300 Hawaiian Airlines. Photos and description of the plane
"Hawaiian Airlines" operates 1 aircraft Boeing 767-300. Boeing 767-300 is passenger wide-bodied two-engine airplane constructed by aviation company Boeing Commercial Airplanes.
This airplane is intended for routes of medium and long-haul. Passenger airplane Boeing 767-300 externally represents elongated by 6.43 meters version of Bowing 767-200 airplane.
Flying range with 369 passengers on board makes 7890 kilometers.
---
In 1998 American airline company American Airlines has got upgraded Boeing 767-300 with increased to 11300 kilometers flying range. This version was marked as Boeing 767-300ER. This version is equipped with engines Pratt&Whitney PW-4056s with engine thrust 25.4 kilo Newton or General Electric CF6-80C2B6s with thrust 266.9 kilo Newton. Also is possible installation of Rolls Royce RB-211-524Gs engines with thrust 269.9 kilo Newton.
More about age of the each airplane:
Boeing 767-300 +
---
Photo Boeing 767-300 Hawaiian Airlines. High quality fotos
---
Usefull information about "Hawaiian Airlines"
---