---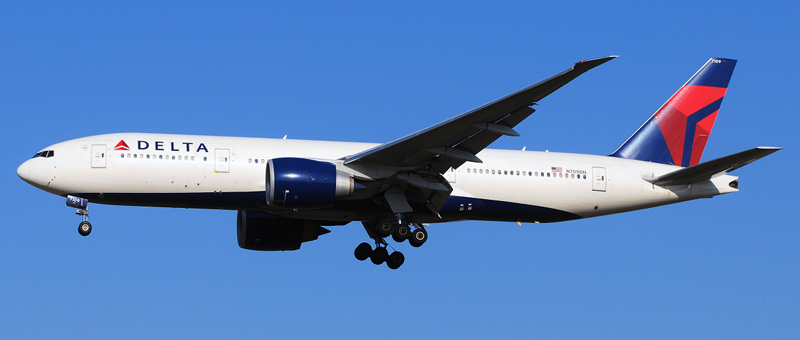 ---
---
Boeing 777-200 Delta Airlines. Photos and description of the plane
"Delta Airlines" operates 18 aircrafts Boeing 777-200. Airplane Boeing 777-200 with engines Pratt & Whitney PW4084 has made its first flight on June 12th 1994.
Later airplanes with engines of General Electric and Rolls-Royce companies were tested. Certification of the aircraft was completed in April 1995 and the airplane came into service. This aircraft is certified in accordance with ETOPS norms that allows two-engine airplane to make flight to alternate airports during 180 minutes in case of malfunction of one of the engines.
Also 777-200ER modification was developed (initially it was named 777-200IGW) for flights on 11-13 thousands kilometers distance. Aircraft (sometimes it is marked 777-200B) has made its first flight in 1996 but in 1997 it came into service.
---
777-200LR (Long Range), also named Worldliner, modification was constructed for extremely long-range flights is equipped with additional fuel tanks and has increased maximum takeoff weight.
More about age of the each airplane:
Boeing 777-200 +
---
Photo Boeing 777-200 Delta Airlines. High quality fotos
---
Usefull information about "Delta Airlines"
---