---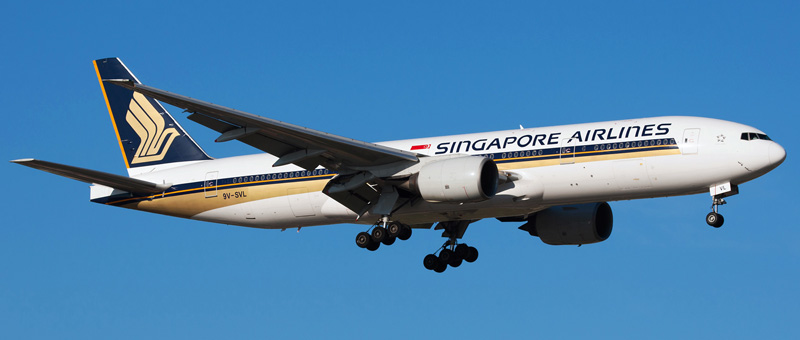 ---
---
Boeing 777-200 Singapore Airlines. Photos and description of the plane
"Singapore Airlines" operates 13 planes Boeing 777-200. The height of Boeing 777-200 windows' is 46 centimeters – the biggest among all commercial airplanes. The windows are equipped with regulated electrochromic blacking-out.
With the help of wireless connection to monitors on the seat backs are sent entertaining programs but satellite system allows passengers to use broad-banded Internet (250 kbps).
During construction of Boeing 777-200 to lighten construction of the aircraft have been widely used composite materials that take about 10 per cent of the weight of entire construction.
---
On the new aircraft have been installed powerful high bypass ratio turbojet engines Pratt & Whitney PW4074 with thrust 329 kilo Newton each. Later on Boeing 777-200 have been used General Electric engines GE90-75Bs with thrust 334 kilo Newton and engines Rolls Royce Trent 875s with similar thrust.
More about age of the each airplane:
Boeing 777-200 +
---
Photo Boeing 777-200 Singapore Airlines. High quality fotos
---
Usefull information about "Singapore Airlines"
---