---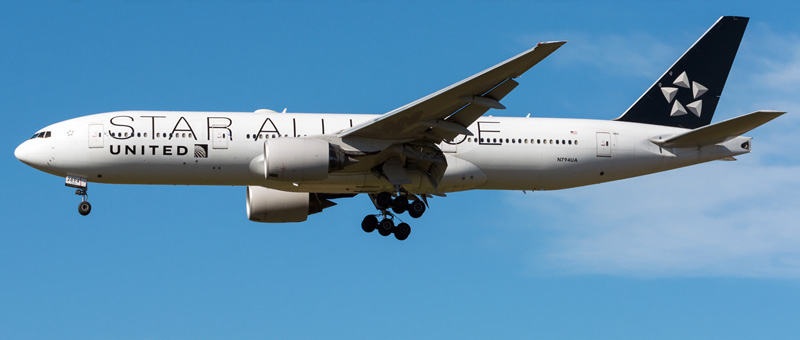 ---
---
Boeing 777-200 United Airlines. Photos and description of the plane
"United Airlines" operates 74 aircrafts Boeing 777-200. Boeing 777-200 is long-haul wide-bodied airplane that is capable to take on board from 314 to 440 passengers and transport them to 9700 kilometers distance.
Boeing 777-200 is the base model of the family. Construction of the airplane began at the end of 1980th. During the process of airplane creation special attention was paid to passengers' requests. According to the Boeing opinion thanks to this airplane turned out to be the most consumer oriented in the world.
The cabin of 777-200 is made in Boeing Signature Interior style with increased baggage bins and non-direct lighting. The cabin's width (5.87 meters) allows accommodating in a row up to 10 seats. The windows' size – 380×250 millimeters. As the airplane was intended for long flights, many airline companies equip the cabin with multimedia entertainment systems. Generally, Boeing 777-200 is modern, quiet and comfortable aircraft.
---
More about age of the each airplane:
Boeing 777-200 +
---
Photo Boeing 777-200 United Airlines. High quality fotos
---
Usefull information about "United Airlines"
---