---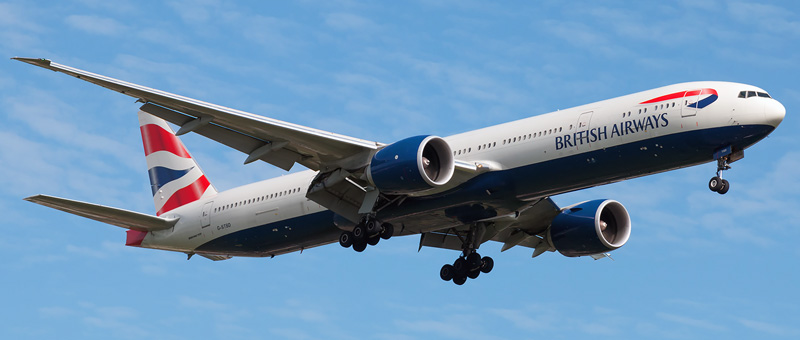 ---
---
Boeing 777-300 British Airways. Photos and description of the plane
"British Airways" operates 12 planes Boeing 777-300. Boeing 777-300 is wide-bodied long-range airplane. For today it is one of the biggest two-engine aircrafts in the world.
Boeing 777-300 was designed to replace outdated 747-200. As compared to the base modification 777-200 this aircraft was elongated by 11 meters and this allowed to increase maximal passenger capacity to 550 passengers. Maximal flying range is 11120 kilometers.
The cabin of Boeing 777-300 is made in Boeing Signature Interior style with increased shelves for luggage and indirect lighting that allows passengers to feel comfortable during long flight. The cabin width (5.87 meters) allows placing 10 seats in a row. The windows' size is 380×250 mm. As the airplane was designed for long flights many companies equip cabin with multimedia entertainment system.
---
First flight Boeing 777-300 has made in October 1997 but its commercial use began in May 1998. The main competitor of this airplane is Airbus A340-600. Further development of the family became Boeing 777-300ER.
More about age of the each airplane:
Boeing 777-300 +
---
Photo Boeing 777-300 British Airways. High quality fotos
---
Usefull information about "British Airways"
---