---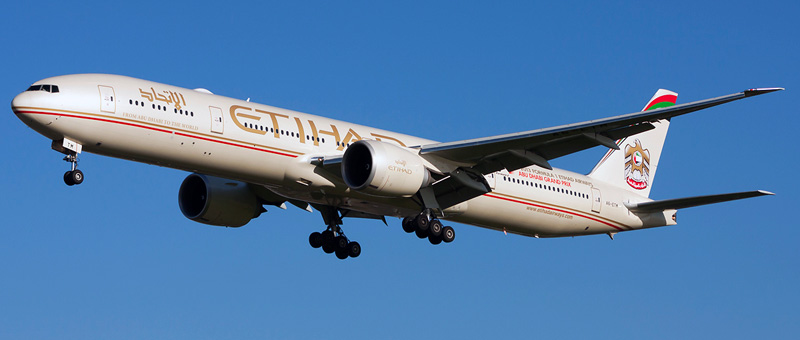 ---
---
Boeing 777-300 Etihad Airways. Photos and description of the plane
"Etihad Airways" operates 19 aircrafts Boeing 777-300.
Boeing 777-300 is equipped with digital complex electronic hardware EFIS manufactured by American company Honeywell with five flat color display on liquid crystals for printing information about the flight, digital control system of on-board systems and engine unit EICAS (three flat LED displays), "electronic library" with data base about all airplane systems and equipment.
Boeing 777-300 has on-board diagnostic system of the airplane conditions. On the airplane is also installed TCAS system (Terrain Collision Avoidance System). Entire avionics corresponds to ARINC 629 standard.
---
Various variants of Pratt & Whitney PW4090, General Electric GE90B and Rolls Royce Trent 800 (2 x 38130 – 70860 kilogram force).
To April 1997 50 units of Boeing 777-300 have been sold.
More about age of the each airplane:
Boeing 777-300 +
---
Photo Boeing 777-300 Etihad Airways. High quality fotos
---
Usefull information about "Etihad Airways"
---