---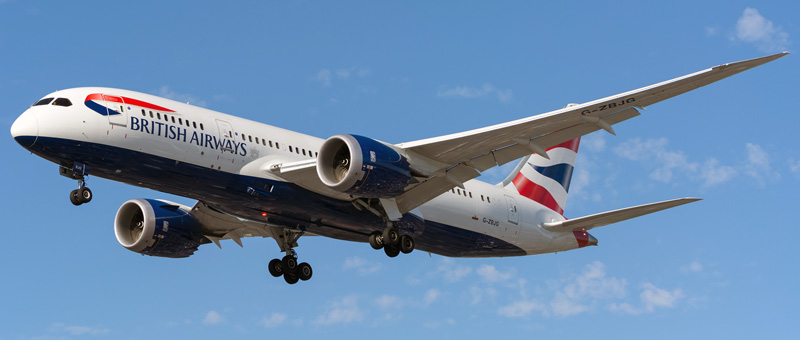 ---
---
Boeing 787-8 British Airways. Photos and description of the plane
"British Airways" operates 12 planes Boeing 787-8 Dreamliner. First flight the airplane has made in December 2009 but its commercial use began in October 2011.
Boeing 787-8 Dreamliner is long-range wide-bodied aircraft of new generation designed for transportation of 234-296 passengers on 15200 kilometers distance.
Boeing 787 is the first airplane in history that on 50% consists of lightweight and durable composite materials. Dreamliner is positioned as replacement for Boeing 767 aircraft.
---
Cabin of Boeing 787 was developed taking into account newest technologies. First of all designers took care of the space that is why the ceiling was designed in form of arch providing the feel of more space than common aisles in other airplanes.
The width of the cabin is 5.5 meters. it is more than in Airbus A330 and A340. The lighting is made on the base of light emitting diodes that change the color depending on the flight's stage. The windows' size is by 65% bigger than in other aircrafts. Instead of common binds they are equipped with electro chromic eclipse system. Luggage bins in Dreamliner are by 30% bigger than in other airplanes.
More about age of the each airplane:
Boeing 787-8 Dreamliner +
---
Photo Boeing 787-8 British Airways. High quality fotos
---
Usefull information about "British Airways"
---