---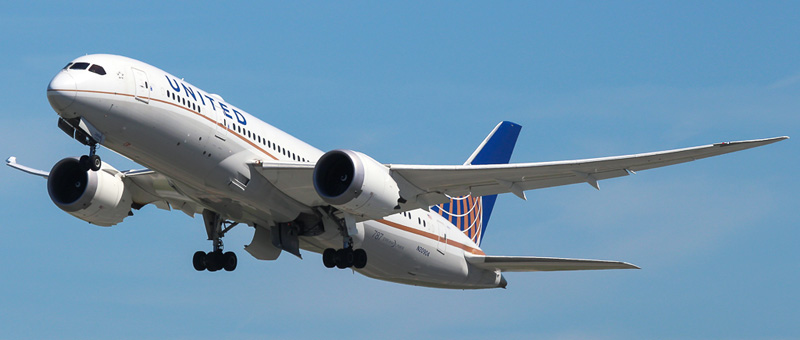 ---
---
Boeing 787-8 Dreamliner United Airlines. Photos and description of the plane
"United Airlines" operates 12 planes Boeing 787-8 Dreamliner. Till January 28th 2005 Boeing 787 was developed under the name 7E7.
First sample was shown during presentation on the plant located in Everett, Washington state on July 8th 2007.
First the airplane's flight was planned on September 2007 but for various reasons first flight was permanently postponed and was made on December 15th 2009. All tests have been finished in the middle of 2011. The same year, in the middle of August have been got American and European verification certificates of readiness. Commercial use of Dreamliner began on October 26th 2011.
---
The cabin of Boeing 787 is 40 centimeters wider than of Boeing 767 that allowed to make the seats more comfortable and the aisles with easier access. The lavatories' size has increased as well. The overhead bins became significantly roomy, on each of them may be placed up to four rolling bags.
More about age of the each airplane:
Boeing 787-8 Dreamliner +
---
Photo Boeing 787-8 Dreamliner United Airlines. High quality fotos
---
Usefull information about "United Airlines"
---