---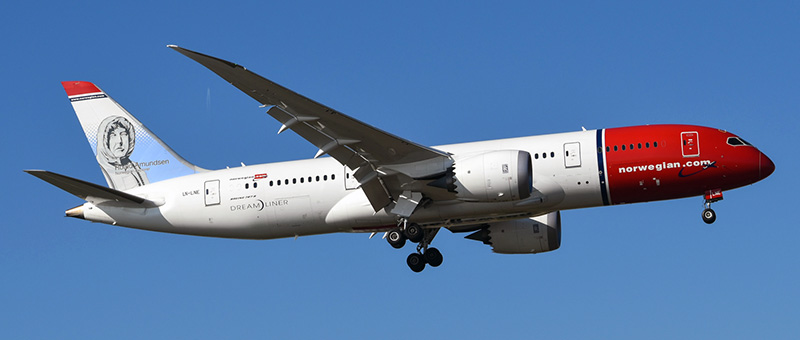 ---
---
Boeing 787-8 Norwegian Air Shuttle. Photos and description of the plane
"Norwegian Air Shuttle" operates Boeing 787-8. In January 2005 new project was announced under the name Boeing 787 Dreamliner.
It was noted that the airplane will be by 20% more efficient in operation as compared to other airplanes of the company and also will present serious competition for Airbus airlines.
After finishing construction of the first engineering development model in December 2009 Boeing 787 has made first flight. Airplane tests passed successfully and already in the summer of 2011 Boeing 787-8 (base model) went to its' first test flight across Pacific Ocean: from Seattle to Tokyo that by the way has finished successfully.
---
Tests of the Boeing 787-8 in Japan were made in the terms of close partnership with Japan airline company All Nippon Airways.
In the end of August 2011 Boeing 787 was certified but in two months commercial use of the airplane begun.
However during first 2 years of airplane use are characterized with relatively big number of incidents due to this in 2013 flight of Boeing 787-8 have been suspended. After making all necessary controls operation of the airplane was resumed in April of the same year.
---
Photo Boeing 787-8 Norwegian Air Shuttle. High quality fotos
---
Usefull information about "Norwegian Air Shuttle"
---