---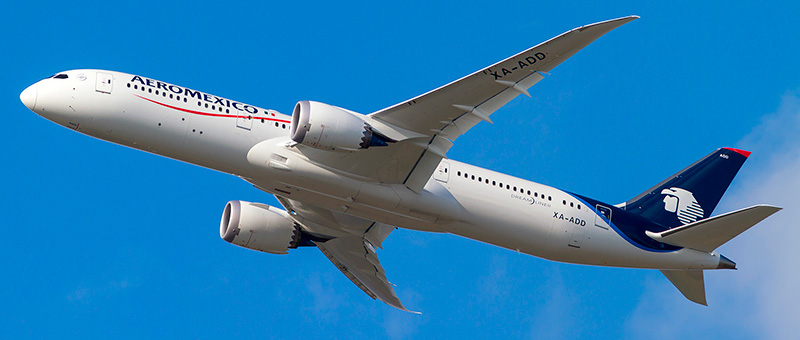 ---
---
Boeing 787-9 Dreamliner Aeromexico. Photos and description of the plane
"Aeromexico" operates 8 aircrafts Boeing 787-9 Dreamliner. The length of the airplane Boeing 787-9 is 63 meters that is 6 meters more than the base Boeing 787-8.
Passenger capacity of Boeing 787-9 is increased by 16% (up to 280 passengers). The airplane exceeds the base model in flying range as well that is 15372 kilometers (that is 850 kilometers more than in case of 787-8). Aviation Company affirms that the aircraft consumes by 20% less fuel as compared to similar airplanes including previous models of the corporation.
As to characteristics modification of Boeing 787-9 is comparable to Boeing 767 and is called to replace variant with increased flying range – Boeing 767-400ER.
---
Assembly work of the first airplane Boeing 787-9 began in June 2013 in Everett, Washington DC. The first ordering customer became Air New Zealand that has signed contract for ten airplanes of this type.
More about age of the each airplane:
Boeing 787-9 Dreamliner +
---
Photo Boeing 787-9 Dreamliner Aeromexico. High quality fotos
---
Usefull information about "Aeromexico"
---