---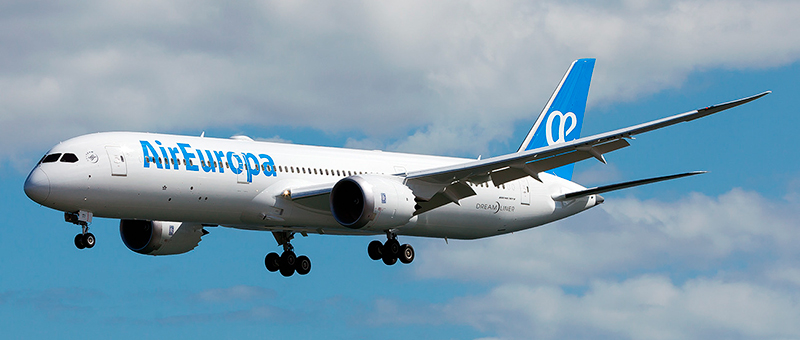 ---
---
Boeing 787-9 Dreamliner Air Europa. Photos and description of the plane
Boeing 787-9 has bigger windows of 46 centimeters height that is 30% more than the major part of airplanes of similar dimensions.
The windows are equipped with regulated electro-chromic blanking – their brightness is regulated with buttons.
Ragged edges of the engines' pods reduce the noise level by 60 % both inside and outside the cabin. On the backs of the seats are located displays on which are shown entertainment programs. Passengers may use Internet.
---
Boeing 787-9 was projected by aircraft-building engineers in order to replace 5 morally outdated passenger airplanes: Boeing 767-400ER, McDonnell Douglas MD-11, Lockheed L-1011, А330-300 and А340-200, и Lockheed L-1011.
Boeing 787-9 has made first flight on September 17th 2013, was certifies in the middle of 2014 but commercial use began on August 7th of the same year. At present moment construction of the airplane continues. Today 683 airplanes of this modification use more than 20 airline companies: Air China, Air France-KLM, American Airlines, British Airways, Hainan Airlines, Japan Airlines, LATAM Airlines Group, Qatar Airways, Vietnam Airlines, Virgin Atlantic Airways, Xiamen Airlines and other.
---
Photo Boeing 787-9 Dreamliner Air Europa. High quality fotos
---
Usefull information about "Air Europa"
---