---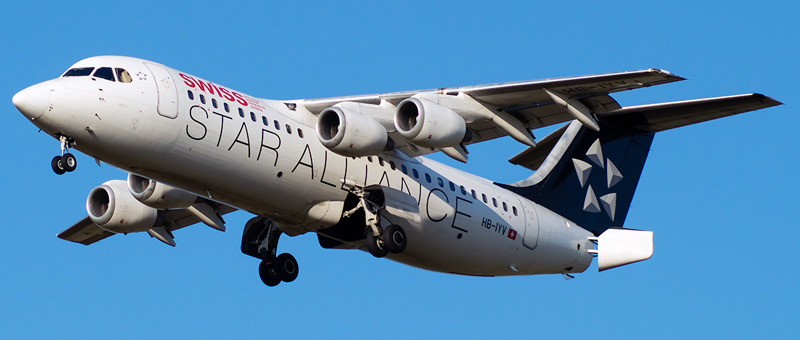 ---
---
British Aerospace Avro RJ100 Swiss Airlines. Photos and description of the plane
"Swiss Airlines" operates British Aerospace Avro RJ100. The year of the first flight of the airplane is 1992.
Passenger airplanes Avro RJ represent modernized versions of three models of BAe 146 airplane. Modernization that took place in 1992 consisted in installation of new efficient engines and more modern digital avionics that improved economical characteristics and increased the flying range.
Like the previous model Avro RJ airplanes have been constructed in three modifications that differed in the length of the body and passenger capacity. For all modifications have been also engineered 2 variants of passenger cabin arrangement that differ in number of seats in a row (5 or 6 in a row).
---
Avro RJ100 is modernized BAe 146-300, accommodates 100 (5 seats in a row) or 112 (6 seats in a row) passengers.
Airplanes Avro RJ were constructed from 1993 to 2003. 166 units have been totally constructed.
More about age of the each airplane:
---
Photo British Aerospace Avro RJ100 Swiss Airlines. High quality fotos
---
Usefull information about "Swiss Airlines"
---