---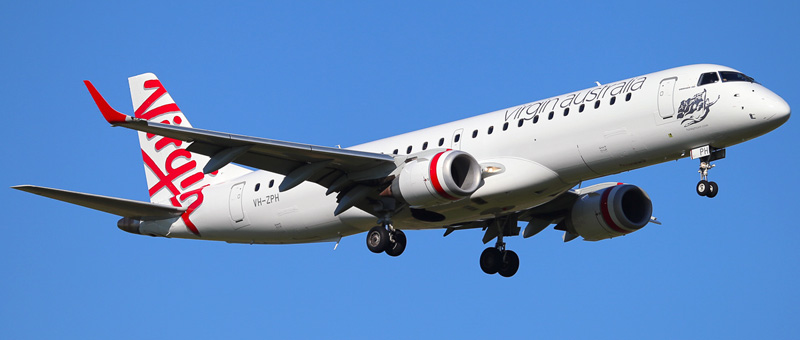 ---
---
Embraer ERJ-190 Virgin Australia. Photos and description of the plane
"Virgin Australia" operates Embraer ERJ-190. Embraer 190 may be related to the newest type of Embraer airplanes that was constructed by Brazilian aviation company in 2000's.
Embraer 190 has distinguished characteristics that allow to transport almost 100 passengers on 3000-4000 kilometers distance that are unreachable for other airplanes.
Construction and use of Embraer 190 began in 2006. Except the base model is also constructed variant Embraer190LR with bigger flying range. Elongated version of the airplane is Embraer 195.
---
Embraer ERJ190 (this is current designation of the airplanes of Brazilian aviation company) is medium-range airplane for regional airlines constructed by Brazilian company Embraer. These airplanes compete on the market with airplanes Boeing 717-200, Boeing 737-600 and Airbus A318, Airbus A319. Embraer ERJ190 is the recent development of Embraer company in the class of extended passenger capacity as compared to the airplanes ERJ135/140/145.
More about age of the each airplane:
---
Photo Embraer ERJ-190 Virgin Australia. High quality fotos
---
Useful information about "Virgin Australia"
---