---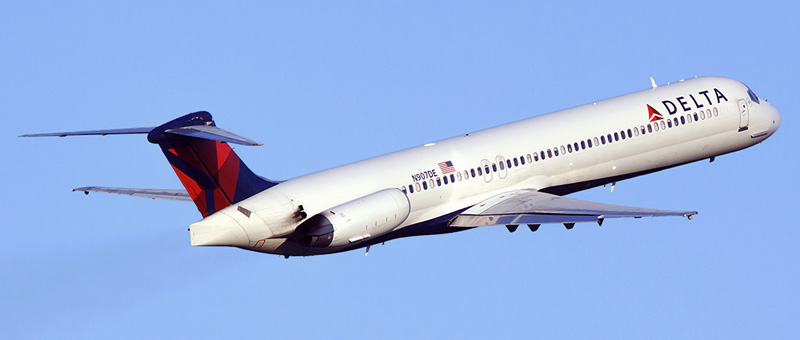 ---
---
Seat map McDonnell Douglas MD-88 "Delta Airlines". Best seats in the plane
McDonnell Douglas MD-88 operated by Delta Airlines has 149 seats.
Seat map of the McDonnell Douglas MD-88

First class of McDonnell Douglas MD-88 has 16 recliner seats that have 2-2 configuration. The seats of the 1st row have restricted legroom because of the bulkhead located in front. Close location to the galley and lavatory may be bothersome. Among other disadvantages lack of floor storage during takeoff and landing and reduced seat width.
---
The seat 4C is standard but other passengers tend to bump into this seat.
In Delta Comfort+ section seats are located in 5 rows and have 3-2 configuration. The best seats hear are the seats 10AB and 10DE. Passengers of these seats will feel comfortable here thanks to extra space for their legs as these seats are divided from first class with a curtain. However as the tray tables are in the armrests these seats are narrower than other standard seats. The seat 10C has the same advantages and disadvantages as other seats of this row. Also this seat is often bumped by service carts and other passengers.
The seat 12A has misaligned window.
Economy class includes 108 standard seats that also have 3-2 configuration.
As the seats of the 23rd row are located in front of emergency exit, they have limited recline.
The seats of the 24th row have extra space for passengers legs as they are located in front of exit row. At the same time there is another exit row behind that is why these seats have limited recline. These seats are designated by Delta Airlines as preferred seats that may be chosen by Delta Medallion members at time of booking or later and become available for other passengers at time of check-in.
The best seats are the seats of the 25th row and the seat 33A passengers of which will take advantage of extra legroom. These seats are also preferred seats that are reserved for Delta Medallion members.
The seats 31ABC have limited recline as there is exit row behind.
The seats 32B and 32C are designated by Delta Airlines as preferred seats. These seats have extra legroom but the width is slightly reduced as 32A is a crew seat.
The seat 35C is standard but other passengers and service carts tend to bump into it as there is no seat behind.
The seats of the last 36th row are bad seats as the seats 36A and 36B do not recline but seats 36D and 36E have limited recline. Also the seats of the 36th row are located close to the lavatories.
---
Usefull information about "Delta Airlines"
---