Virgin Atlantic Airways (VAA) known as Virgin Atlantic is British airline company that is operating flights, mainly on medium and long distances. The main airports/hubs – Gatwick and Heathrow in London and also airport in Manchester. 51% of the company's shares owns Virgin Group, the other 49% – American Delta Air Lines.
Route network of British airline company counts 31 destinations. The flights are made to North America, the Caribbean, Africa, to Middle East and to Asia.
Reviews about "Virgin Atlantic Airways"
Unfortunately, this company has no reviews. Be the first to add your own!
---
Company ratings and achievements
4-STAR airline by SKYTRAX, represents good quality of services.
SKYTRAX is a United Kingdom-based consultancy, which runs in 1999 the leading international Airline Rating system classifying airlines by the Quality of front-line product and staff service standards.
---

14
"Virgin Atlantic" takes 14 place in
"AIRLINE SAFETY RATING 2017"
by JACDEC.
Jacdec (from 1989) has become a global source for professional and accurate aviation safety information for the benefit of companies, aviation professionals and individual travellers.
---
You are here:
Airlines / European Airlines / Virgin Atlantic Airways
Virgin Atlantic's airplanes
As the company is operating the flights to long distances, passenger fleet consists of long-haul airplanes.
As of September 14, 2018 "Virgin Atlantic" operates a mainline fleet of 39 airplanes, 3 more are ordered. The average age of planes is 7.9 years.
The oldest aircraft is Boeing 747-400, with reg.number G-VBIG. It is 21.3 years old. The newest one is Boeing 787-9 Dreamliner, with reg.number G-VBOW. It is - 0.5 years old
---
"VA's" aircraft fleet. Photos and seat maps
Airbus A330-300 – 10 aircrafts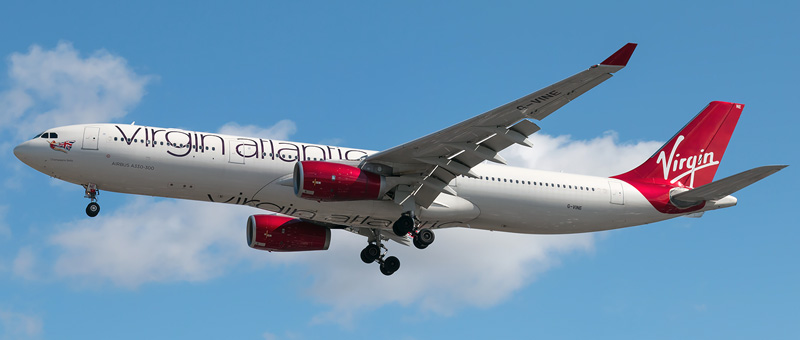 The newest one – G-VUFO - 5.0 years
The oldest aircraft – G-VSXY - 6.7 years
See more about the age of each aircraft:
Airbus A330-300 +
---
Airbus A340-600 (Airbus A340-600) – 7 aircrafts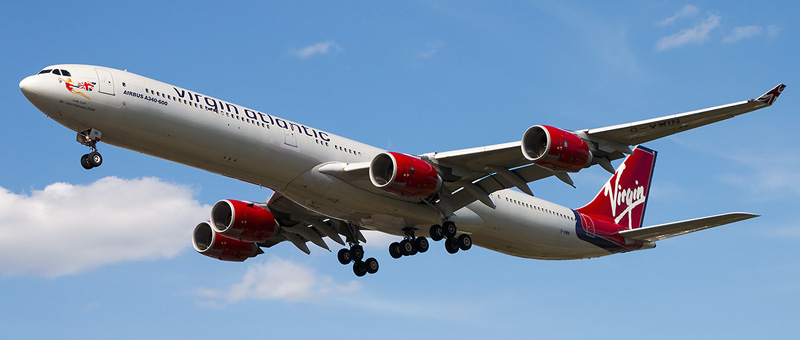 The newest one – G-VBUG - 10.6 years
The oldest aircraft – G-VWIN - 11.6 years
See more about the age of each aircraft:
Airbus A340-600 +
---
Boeing 747-400 (Boeing 747-400) – 8 aircrafts
The newest one – G-VROY - 16.3 years
The oldest aircraft – G-VBIG - 21.3 years
See more about the age of each aircraft:
Boeing 747-400 +
---
Boeing 787-9 Dreamliner – 17 aircrafts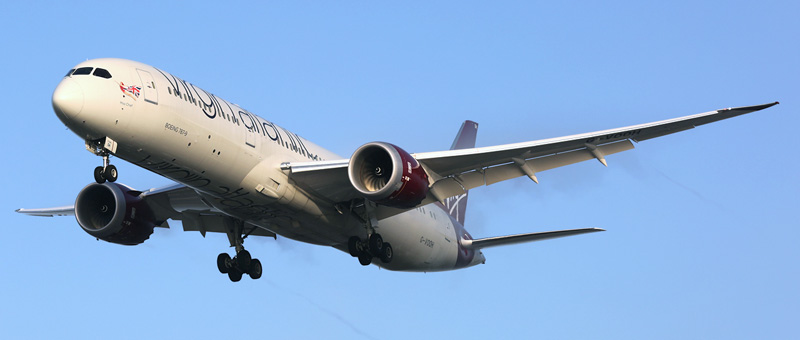 The oldest aircraft – G-VNEW - 3.0 years
See more about the age of each aircraft:
Boeing 787-9 Dreamliner +
---
Official website – www.virgin-atlantic.com
---