---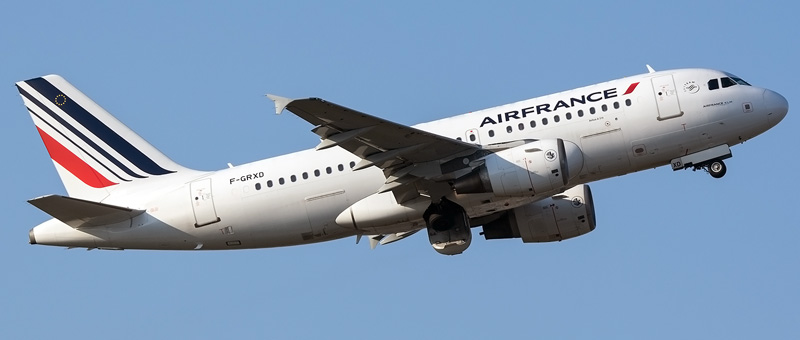 ---
---
Airbus A319-100 Air France. Photos and description of the plane
"Air France" operates 34 aircrafts Airbus A319-100. Except the base model that is meant for transportation of 116 passengers for 6650 kilometers distance to ordering customers is offered variant with increased capacity up to 156 seats.
As compared to other airplanes of the similar dimensions Airbus A319 (as well as the base model Airbus A320) differs in spacious passenger cabin with big shelves for hand luggage, big load-carrying ability of the lower (cargo) deck and wide access doors for baggage loading. For these and other reasons (including relatively low service charge) Airbus A319 is popular in entire world. For today airplanes Airbus A319 are used by 27 airline companies making charter and regular flights all over the world.
On airplanes of Airbus A319 (A320) family (constructed after 2000) innovations (enhanced version) introduced during construction of Airbus A318, such as: replacement of cabin's dado panels, more spacious shelves for hand luggage (internal volume has increased by 11%), new Flight Attendant Panel (FAP) with sensor display, individual lightning above each passenger (Reading lights) based on LED, possibility of brightness regulation of the main illumination in the cabin from 0 to 100%. high level of auto airplane control and its systems allowed to restrict the number of crew members with two pilots.
---
More about age of the each airplane:
Airbus A319-100 +
---
Photo Airbus A319-100 Air France. High quality fotos
---
Usefull information about "Air France"
---