---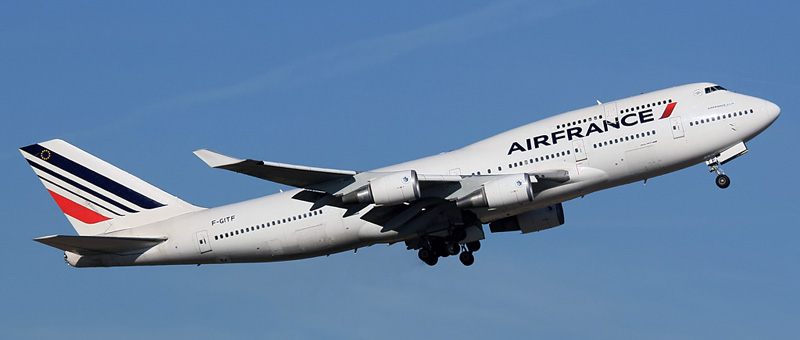 ---
---
Boeing 747-400 Air France. Photos and description of the plane
"Air France" operates Boeing 747-400. Boeing 747-400 is further modification of Boeing 747-300.
Airplane differs from previous models not only in elongated upper deck (as in case of Boeing 747-300) but also with increased by 3.66 meters wing span on the tips of which vertical aerodynamic surfaces of 1.8 meters height are located, two-place cockpit, presence of digital complex electronic hardware EFIS and electronic control system. In the wing construction are used compositions used on Boeing 757 and 767 as result the weight of construction is reduced by 2.7 tones.
Cabins of all three classes of Boeing 747-400 and 747-200 impress with deepness of space. Thanks to oversized luggage compartments that may accommodate even the most bulky baggage passengers are not restricted with anything on their seats.
---
Very wide angle-flat seats of the first class may be fully reclined that allows to fully relax during long-haul flights.
More about age of the each airplane:
---
Photo Boeing 747-400 Air France. High quality fotos
---
Usefull information about "Air France"
---