---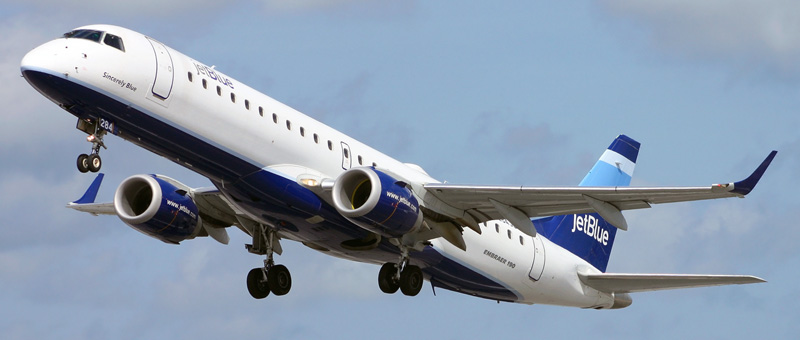 ---
---
Embraer ERJ-190 JetBlue. Photos and description of the plane
"JetBlue" operates 60 aircrafts Embraer ERJ-190. Works over the airplane Embraer 190 began in 1998.
These airplanes had designations ERJ 190-100 and ERJ 190-200. For the first time the airplane was presented on February 11th 1999 and showed in June 1999 on Paris air show. First flight took place on March 12th 2004. Serial construction of Embraer ERJ 190-100 began in the middle of 2004 but ERJ 190-200 in the end of 2004. Certificate was received in 2005. The airplane is constructed in two main modifications ERJ-190-100 for 98 passengers and ERJ-190-200 for 108 passengers.
Aircraft Embraer 190 is equipped with more modern engine CF34-10Es that has a lot in common with the last engine CFM56. For the first time the airplane of such category have fly-by-wire system.
---
More about age of the each airplane:
Embraer ERJ-190 +
---
Photo Embraer ERJ-190 JetBlue. High quality fotos
---
Usefull information about "JetBlue"
---