---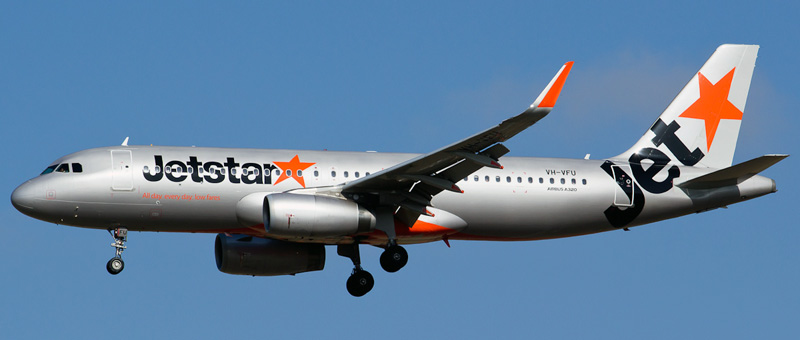 ---
---
Seat map Airbus A320-200 Jetstar. Best seats in the plane
Jetstar operates one-class version of Airbus A320 airplane that is used during internal short-haul flights.
Seat map of the Airbus A320 (320)

This airplane may accommodate 180 passengers. There are 30 rows of seats that have 3-3 configuration.
---
As there are no seats in front the tray tables of the seats of the first row are built-in the armrests making them immovable and thus reducing the width of these seats a little. Also these seats have no floor storage during take-off and landing. While the seats 1ABC have some extra space for passengers' legs, the legroom of the seats 1DEF on the contrary is reduced because of the bulkhead located in front. But extra legroom of the seat 1A is slightly reduced due to exit door protrusion.
Due to the exit row located behind the seats of the 11th row are less reclining than standard.
Location of the seats of the 12th row between two exit rows on the one hand provided these seats with extra legroom but on the other hand these seats may be not reclining. Lack of floor storage during take-off and landing is another disadvantage of these seats.
The seats of the 13th row are considered the best seats on this airplane because passengers of these seats will feel comfortable during entire flight thanks to extra legroom that these seats offer. However, these seats have no floor storage during take-off and landing.
No recline, missing windows and location of the lavatories behind make the seats of the last 30th row bad seats.
Useful information about "Jetstar"
---