---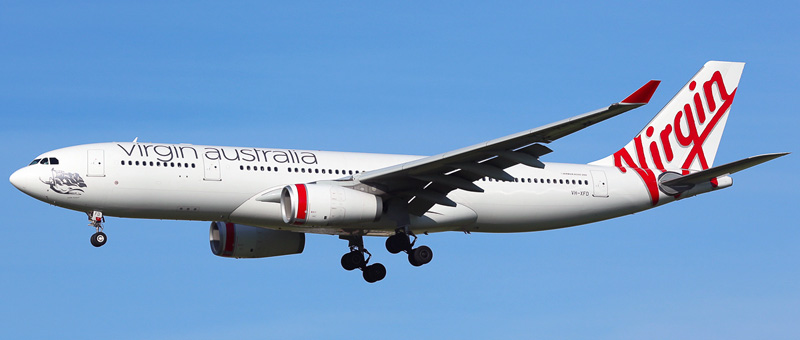 ---
---
Seat map Airbus A330-200 Virgin Australia. Best seats in the plane
Airbus A 330-200 operated by Virgin Australia offers seats of two classes: business and economy.
Seat map of the Airbus A330-200 (332)

First 5 rows of seats represent seats of business class that have 1-2-1 configuration. So, there are totally 20 flat bed seats here that have 180 degrees recline. All these seats are standard.
---
Economy class may accommodate 255 passengers. The seats of the economy class are divided into two sections. First section consists of 18 rows of seats that have 2-4-2 configuration. Passengers traveling with infants are often seated on the seats of the 10th row as they offer bassinets. Passengers of the seats 10AC and 10HK will take advantage of extra legroom. Among disadvantages of the seats of the 10th row are: reduced width, lack of floor storage during take-off and landing and the noise from the galleys and lavatories located in front.
The main disadvantages of the seats of the 27th row are limited recline and location of the lavatories behind.
The second section f economy class seats is located behind the exit row. There are 15 rows of seats here. Thanks to the exit row located in front the seats of the 28th row offer extra space for passengers' legs. However, passengers tend to gather in the area of these seats while waiting to use lavatories and thus causing discomfort to passengers' of these seats. As the tray tables are in the armrests the width of these seats is reduced a little. Lack of floor storage during take-off and landing is another disadvantage of these seats.
As there are no seats behind the seats 37D and 37G are often bumped by other passengers and crew members passing by.
The seats 38DFG are a little narrower than standard, have some additional floor storage but it will be difficult to maneuver the legs.
Missing window makes the seat 39A bad seat.
The only disadvantage of the seats 41AC and 41HK is limited recline.
The seats 42DFG are considered bad seats because of limited recline and location of the galley behind.
Useful information about "Virgin Australia"
---