---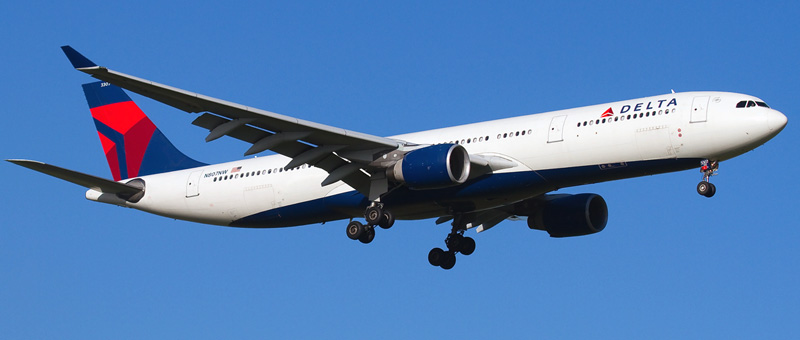 ---
---
Seat map Airbus A330-300 "Delta Airlines". Best seats in the plane
This Airbus A330-300 aircraft is mainly used during International flights and may transport 293 passengers.
Seat map of the Airbus A330-300

There are 293 seats of three classes on this airplane.
---
Business Elite class has 34 flat bed seats. All the seats here are standard but close location of the seats 1C and 1G to the lavatories and of the seats of 9th row to the galleys may be bothersome. Also the seats 9A and 9J have misaligned windows.
Another class that includes 32 seats is Economy Comfort. The seats are located here in 4 rows that have 2-4-2 configuration. Because of the bulkhead there is less legroom for passengers of the seats 10A, 10B and 10H, 10J. Passengers of these seats as well as passengers of the seats 10C, 10D, 10F and 10G may feel discomfort due to proximity of the galleys. But passengers of the seats 10C, 10D, 10F and 10G may take advantage of extra legroom.
The seats 13A and 13J have no windows.
Economy class may accommodate 227 seats.
The seat 25A may have restricted legroom because of the equipment box located here. The seats from 25B to 25H and the seats of the 6th row are located close to the lavatories and this fact may cause inconvenience to passengers of these seats. Also the seats 25C, 25D, 25F and 25G may have limited recline.
The seats 27A, 27B, 27C, 27G, 27H and 27J have extra space for passengers legs due to the emergency exit located in front but close location to the lavatories may be bothersome. These seats are reserved for Medallion members that may choose them while booking the tickets or afterwards. These seats may be given to other passengers at time of check-in if available. The seats 27D and 27F may have limited recline.
The seat 38G is standard but as there is no seat behind other passengers tend to bump into it.
Passengers of the seats 42B, 42C, 42F and 42H as well as of the seats of the last 43rd row may feel discomfort because of the close location of lavatories and galleys. Also the seats 43C, 43D and 43F have limited recline.
---
Usefull information about "Delta Airlines"
---