---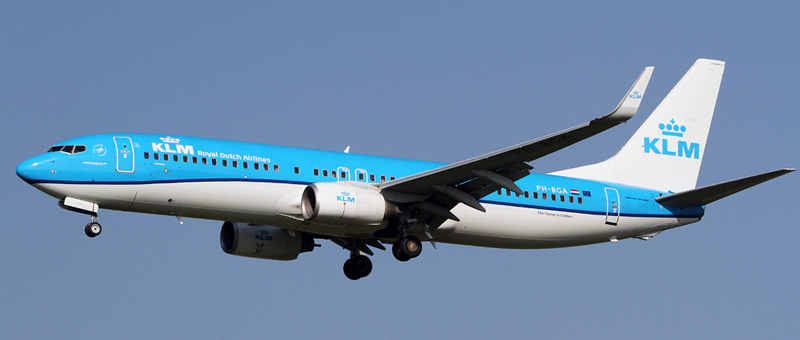 ---
---
Seat map Boeing 737-800 KLM. Best seats in the plane
Boeing 737-800 operated by KLM offers seats of two classes: business and economy.
Seat map of the Boeing 737-800 (738)

Business class offers 20 recliner seats that are located in first 5 rows of the airplane. The middle seats, i.e. the seats B and E are not sold providing additional room for passengers of business class. All the seats of business class are standard, only the seats of the 1st row have some peculiarities such as: location of the galleys in front, lack of floor storage during take-off and landing and reduced with as the tray tables are in the armrests making them immovable.
---
Except business and economy class this airplane offers 6 seats of so-called economy comfort class. These seats are located in the 6th row. The seats of the 6th row have extra seat pitch.
Economy class consists of 25 rows of seats that have 3-3 configuration. There are totally 144 standard seats here. Due to presence of entertainment equipment under the seats 8A, 10A and 10F the under seat storage and legroom are restricted.
Misaligned windows is disadvantage of the seats 9A and 10F. The seats 9F and 10A have no windows at all.
Because of the exit row located behind the seats of the 14th row do not recline.
Location of the seats of the 15th row between two exit rows on the one hand provides these seats with extra legroom (these seats are designated as preferred seats to reserve which an additional charge should be paid). At the same time these seats are less reclining than standard, have no floor storage during take-off and landing are narrower because the tray tables are in the armrests making them immovable.
Passengers of the seats of the 16th row will feel comfortable thanks to extra space for their legs. These seats are considered preferred seats for which an additional fee is charged. However, these width of these seats is reduced a little and there is no floor storage for these seats during take-off and landing.
Passengers tend to congregate in the area of the seats 31C, 31 D and the seats of the last 32nd row while waiting to visit lavatories and causing discomfort to passengers of these seats. Also limited recline makes the seats of the 32nd row bad seats.
Useful information about "KLM"
---