---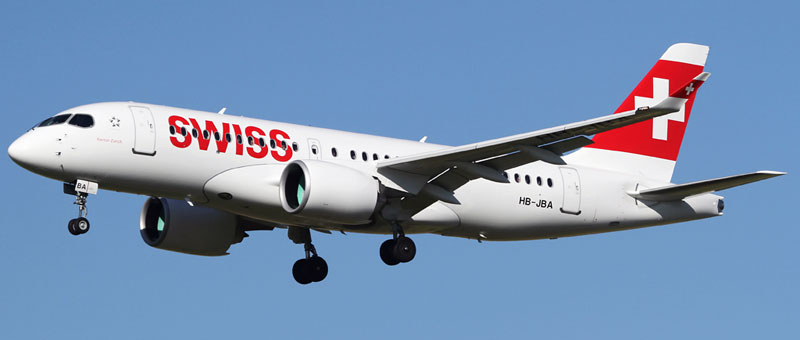 ---
---
Seat map Bombardier CSeries CS100 Swiss Airlines. Best seats in the plane
Bombardier CS100 operated by Swiss Airlines may accommodate 125 passengers in two classes: business and economy.
Seat map of the Bombardier CS100

Business class consists of 4 rows of seats per 5 seats in each. All these seats are standard. Only close location of the galleys and lavatories will cause discomfort to passengers of the seats of the 1st row.
---
Economy class has 21 rows of seats that have 2-3 configuration. These seats are divided into two sections. First section includes 5 rows of seats. Passengers of the seats of the 5th row will take advantage of extra space for their legs as there is no bulkhead in front but just a curtain divider.
Due to the exit row located behind the seats of the 9th row are less reclining than standard.
Behind these exit row the second section of economy class seats is located. The best seats in this section are considered the seats of the 10th row as these seats provide extra legroom. However, as the tray tables are built-in the armrests the width of these seats is reduced. Also there is no floor storage for these seats during take-off and landing.
Close location of the galley and lavatory will represent problem to passengers of the seats 25C and 25D and for passengers of the seats of the 26th row. The seats of the last 26th row are considered bad seats.
Usefull information about "Swiss Airlines"
---