---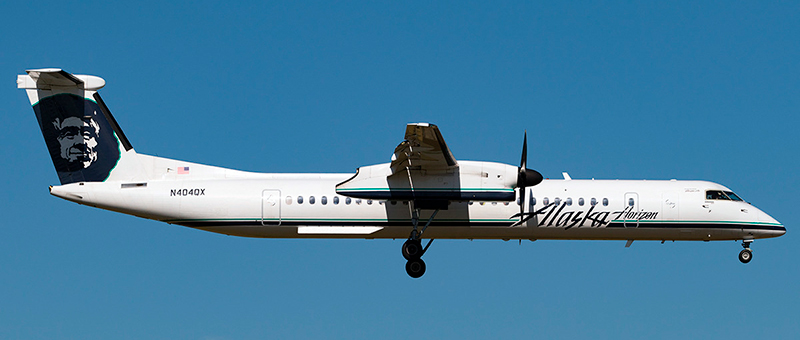 ---
---
Seat map De Havilland Canada DHC-8-400 "Alaska Airlines". Best seats in the plane
De Havilland Canada DHC-8-400 also known as Bombardier Q400 offers 76 seats of economy class.
Seat map of the of Bombardier Q400

The seats in Bombardier Q400 operated by Alaska Airlines are located in 20 rows: first row contains only 2 seats, 18 rows have 2-2 configuration and the last row also contains 2 seats.
---
Passengers of the seats 1AB and 2DE will take advantage of additional legroom. These seats are considered the best seats. However, these seats have some disadvantages: reduced width of the seats because the tray tables are built-in the armrests making them immovable and lack of floor storage during take-off and landing. Also passengers of the seats 1AB may feel some discomfort due to lavatories located in front.
The seats of the rows 7-9 are noisy because are located close to the propeller.
Wing and engine block the view for passengers of the seats A and E of the rows 7-16.
The main disadvantage of the seats A and E of the rows 10 and 12-16 is obstructed view because of the engines and propellers located in the area of these seats.
Missing windows make the seats 11A and 11E bad seats.
The only disadvantage of the seats 18D and 19B is close location to the galley.
The noise from the galleys may be also bothersome for passengers of the seats 19DE and 20AB. These seats are considered bad seats. However other passengers report that these seats are quiet and they are first to deplane.
---
Usefull information about "Alaska Airlines"
---