---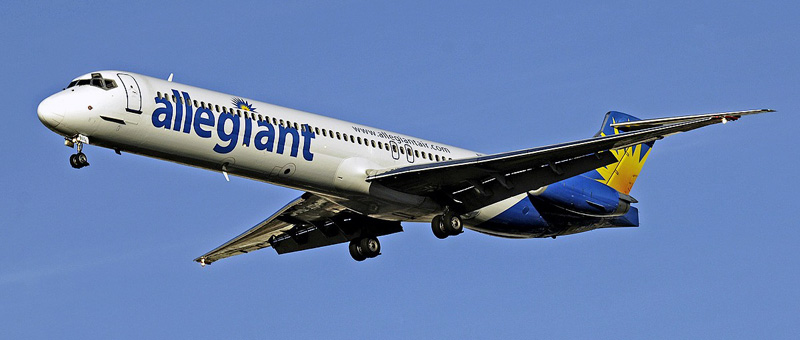 ---
---
Seat map McDonnell Douglas MD-83 Allegiant Air. Best seats in the plane
McDonnell Douglas MD-80 operated by Allegiant Air may transport 166 passengers.
Seat map of the McDonnell Douglas MD-83 (M80)

All the seats on this airplane are of economy class and all these seats are not reclining. Allegiant Air doesn't offer hot tea and coffee during the flight. But passengers may acquire various products among which : non-alcoholic and alcoholic beverages and snacks.
---
Almost all the seats have 2-3 configuration.
Major part of the seats are designated as coach. There are also 15 seats that are designated as legroom+ to reserve which an extra fee is charged. These are the seats of the 3rd row and the seats of the 24th-25th rows. Passengers of these seats will take advantage of extra legroom that they offer. However, these seats still have some disadvantages: lack of floor storage during take-off and landing, slightly reduced width as the tray tables are built-in the armrests making them immovable. Proximity of the galleys is one more disadvantage of the seats of the 3rd row.
The seats of the 33rd row offer extra for passengers' legs as well. The only disadvantage is that these seats are a little narrower than standard as the tray tables are in the armrests making them immovable.
Other passengers tend to gather in the area of the seats 36C, 36D and 37DEF while waiting to use lavatories and thus causing discomfort to passengers of these seats.
Usefull information about "Allegiant Air"
---